International Lease Program
Unitas Solutions, LLC is an approved exclusive dealer representative to its affiliate GoldTree Capital, LLC (GoldTree). GoldTree's finance/leases support your expanded business activities in a variety of international arenas. You can expect fast, efficient procurement and delivery, plus rapid approvals and closing processes, through pre-approved policies and procedures. Flexible terms ensure the finance/lease supports your on-going business success and well-defined lease parameters allow you to evaluate the finance/lease program before committing.
Download International Lease PDF – English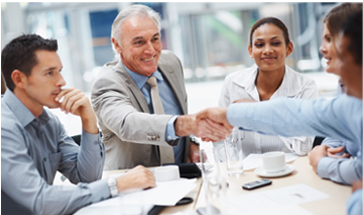 Product Overview
GoldTree offers customized finance/leasing programs specifically designed for international and domestic lessees, oil and gas equipment lessees, and international aircraft non-military (rotary and fixed) lessees, including Russian manufactured civil aircraft.
Advantages
GoldTree's finance/leases allow for depreciation and tax benefits, plus payments can be adjusted to meet your cash flows. Pre-defined underwriting requirements support quick deal evaluation, high probability of approvals, and enable exclusive dealer representatives to evaluate your credit-worthiness prior to submitting an application to GoldTree.
The flexible finance/leasing programs offer a customized lease structure to suit your unique needs, including an option for tiered payment options, scaled residual values, flexible deposit requirements, flexible capitalized cost reduction requirements, and flexible guarantee requirements (depending on credit quality).
Standard lease templates and procedures result in reduced legal fees. You can choose an advantageous end-of-lease purchase option. You may also claim ownership treatment of the asset for tax purposes, with deduction of depreciation and imputed interest instead of rent reduction. By tapping existing sources of capital, you may realize a faster timeline to lease closing.
Lease Structure
Dry leases

Finance leases (not operational leases)

Straight line or adjusted monthly lease payments

Flexible capitalized cost reduction requirements and security deposits, depending on credit quality

Service/maintenance reserve funds collected with monthly lease payment

End-of-lease residual value defined up-front

Terms may vary between aviation leasing and oil and gas leasing
Company Overview
GoldTree addresses the growing need for finance/lease programs specifically designed for international clients. GoldTree uses standardized finance/lease requirements that result in a fast, easy-to-use program that is able to successfully complete transactions that no other leasing company can support.
GoldTree is led by a management team with extensive experience in the finance/leasing industries. Industry experts handle all aspects of finance/lease closing, aircraft procurement, and lease servicing.
GoldTree's finance/leasing programs are backed by investors who seek to fund specific type finance/leases that are offered by the GoldTree program. They approve the lease requirements and provide final approval for each deal after GoldTree has confirmed that a deal meets those requirements.
Primary Collateral Criteria
Non-military use

Approved manufacturer

Is insurable

Equipment compatible with intended use

Remaining life greater than lease term

Approved by in-country authority

Usage in an approved area
 
Primary Credit Criteria
Positive EBITDA

No bankruptcy within 10 years

Positive net worth

Insurable

Minimum 3 years in business

Financial statements available

Trade and bank references available
 
These guidelines do not constitute an automatic acceptance. GoldTree reserves the right to approve or deny any application.